16 January 2010, Hanoi
I am participating in this group show at the Au Co Gallery. It will be the last for me in Hanoi for a couple of months. I hope you can come by and see it.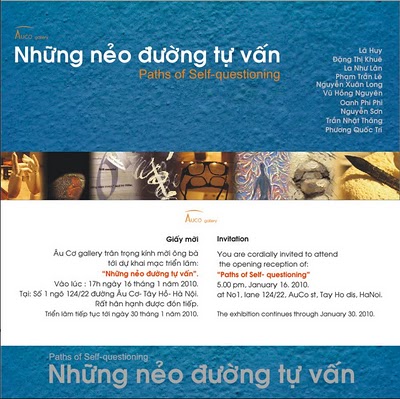 26 Jan 2010, Hanoigrapevine reviews this show...
"KVT on an Incredible Au Co journey"
Source: http://hanoigrapevine.com/2010/01/lang_enkvt-on-an-incredible-au-co-journeylang_enlang_vititlelang_vi/
I've just discovered a really excellent and very exciting gallery.
It's off Au Co, down lane 124 that leads past Tu Lien market and down to where the cumquat trees are being readied for Tet and to the drought riven dry reaches of the river and a temporary village on the banks full of ceramic pots which is an unmissable installation in itself… but if you go past the market you've gone about 20 meters too far. In the first lane to the right, on the left, is the Au Co Gallery.
It's a large gallery space all on one level and if I was an artist wanting to exhibit this is where I'd want to be shown.
The exhibition,
Paths of Self-Questioning, presents the work of ten good artists who loosely address that theme. The work is presented tremendously well. The space is so large that nothing is in too close a proximity to be lost as it bounces off another artist's work and every exhibit is allowed to breathe its own air (a rare thing in our art scene).
My favorite from this well balanced show is The Pink Box by Nguyen Xuan Long. It's a very strong and intellectual installation. It's about the mad surfeit of news and current event overload that we digest daily as we sit in comfort in our pink tinged cloud cuckoo land. Powerful! And if you can get the gallery people to dim all the gallery lights and leave the pink box self illuminated you'll be truly impressed.
Mind you it's an intellectual show that has been very intelligently curated. When you enter the gallery and are confronted with the long paper and rock floor piece by Nguyen Son perfectly overlooked by the large canvas caligraphic triptych by Tran Nhat Thang you are completely won over.
The works on canvas by Vu Han Nguyen and La Nhu Lan are arresting and the three portrait faces emerging or submerging by Phuong Quoc Tri are overwhelming crowd pleasers in their almost 3D glory.
The wall lacquers by La Huy are attractive and complement the amazing 'Carp Pondering the Moon', lacquer on curved metal on a mirror, by that amazing Phi Phi Oanh.
Phi Phi's statement that 'we cannot see all we want to see even though it may be right in front of our eyes' is literally reflected in the very strong minimalistic installation, 'Delusion About Objectivity' by Pham Tran Le which a lot of viewers will find challenging.
The gallery and its surrounds are super and I hope it becomes a vital part of the private gallery scene. I think it could give all the other top galleries a run for their money and I can hardly wait to see what's on next.
Every artist and art lover should put Au Co and this show right on top of their must see list. It's easy to find and absolutely top notch.